Mark videos your own style and keep unique
uRex Videomark Platinum: Add Watermark to Video – Review
When people enjoy different kinds of videos in YouTube, they hardly know who made and owns the videos. So, brand your video with a video watermark right now! Since you're taking time to create a video, and that's your intellectual property which should be protected well. You have the right to identify the video ownership information to ensure the viewers to know the source. What's more, you need protect your videos from unauthorized using.
uRex Videomark Platinum is a great solution to easily add video watermark. Users are allowed to insert text, image and shape watermark into a video effortlessly. uRex Videomark Platinum provides simple operation, friendly interface, high speed process and batch mode to users. That means you can fast add video watermark with a few clicks. Now, tell your audiences that you made and own the video.

Insert Text, Image to Video
uRex Videomark Platinum supports scroll text and rich text settings like text opacity, rotate text, font options, etc. copyright symbols C, R and TM can also be added into video. uRex Videomark Platinum offers over 200 image watermark samples and supports animated image watermark.

Draw Shape Watermark – Unique Feature
uRex Videomark Platinum allows you to draw line segment, curve, rectangle and round shapes into your video. You could also add an arrow on the shape. In addition, you could fully control color, width, opacity and rotate settings.

Video Conversion
uRex Videomark Platinum is also a video conversion tool. It enables users to convert videos from AVI, MP4. MPEG, WMV, MKV, MOV, FLV, SWF, 3GP, etc.

Video Effect
This profession video watermark program gives users the ability to make rich video effect like brightness, contrast, mosaic, blur, sharpen, noise, old film, etc.
Timeline Editing
Users can use timeline editing function to control watermark show time and hidden time for every second.

Batch Video Watermarking
If you have many videos which you want add video watermark, you can use batch mode. By using batch mode, users can add video watermark into hundreds videos at one time.
Ready to Buy or Try?
You May Also Like to Read
Do Not Miss

uRex DVD Ripper Platinum
uRex iPhone DVD Ripper is of the first class DVD to iPhone 4S. Mainly designed for iPhone 4S, uRex iPhone DVD Ripper offers a fast and stable ripping process for iPhone 4S and iPhone 4, iPhone 3G and iPhone 3GS...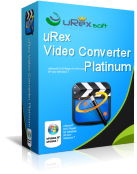 uRex Video Converter Platinum
Convert the popular video formats on your PC to various formats like AVI, MPEG, WMV, DivX, MP4, H.264/AVC, AVCHD, MKV, RM, MOV, XviD, 3GP, and audio MP3, WMA, WAV, RA, M4A, AAC, AC3, OGG. Also ...